/ Robotic Process Automation / HR Onboarding and Offboarding
Are your Robots onboarding your new employees? Is the process still waiting for someone to manually open different systems and coordinate different tasks in order to create a new user account, email address, access rights for all the required applications and send out welcome email and share access to various training material and before you know it, the HR team is bogged down with these mundane and repetitive tasks. The team is either firefighting or stuck in the backlog tasks.
Robotic process automation (RPA), as applied to the human resources department, uses automated software applications to streamline HR processes, such as onboarding new hires.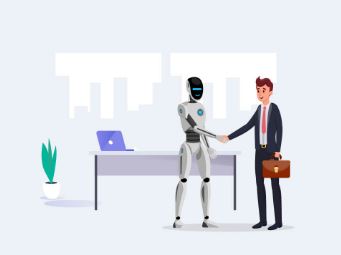 What is robotic process automation in human resources?
HR bots can automate the simplest, most repetitive administrative and clerical actions. The processes that can be automted using RPA include employee relations, training and development, recruiting and hiring, benefits and compensation, and HR generalist activities. Hence letting the team focus in improving employee experience.
HR bots can initiate onboarding process for new employee. The bot User accounts can be automatically activating user accounts, creating email accounts, adding Phone extensions and requesting for card access, hence streamlining the whole experience for the new employee. The bots can then make rule-based decisions as to which credentials to assign the new employee, which onboarding documents to send, etc.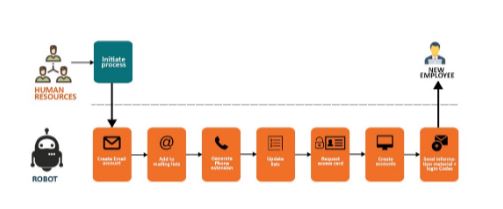 Large number of organisations are using bots to improve the efficiency of the HR department and through these bots, some the processes are:
Reduced HR onboarding processing costs. Robots reduce the manual effort by handling tedious, repetitive processes and automatically copy pasting information from various sources in multiple systems.
Increased onboarding processing speed. Robots accomplishes this in HR operations by automatically validating new hire data and entering data into different systems.
Reduced error rates in human resources onboarding processes. Robots accurately updates personal and account information across multiple systems to facilitate processing and they can automatically identify data discrepancies.
Increased regulatory compliance. Robots maintains regulatory compliance at nearly 100%. Robots can keep a running log of actions and conduct automated compliance checks.
RPA thus makes a significant contribution to helping new employees dive immediately into their work, find their place in the team, and feel 'at home' with it.